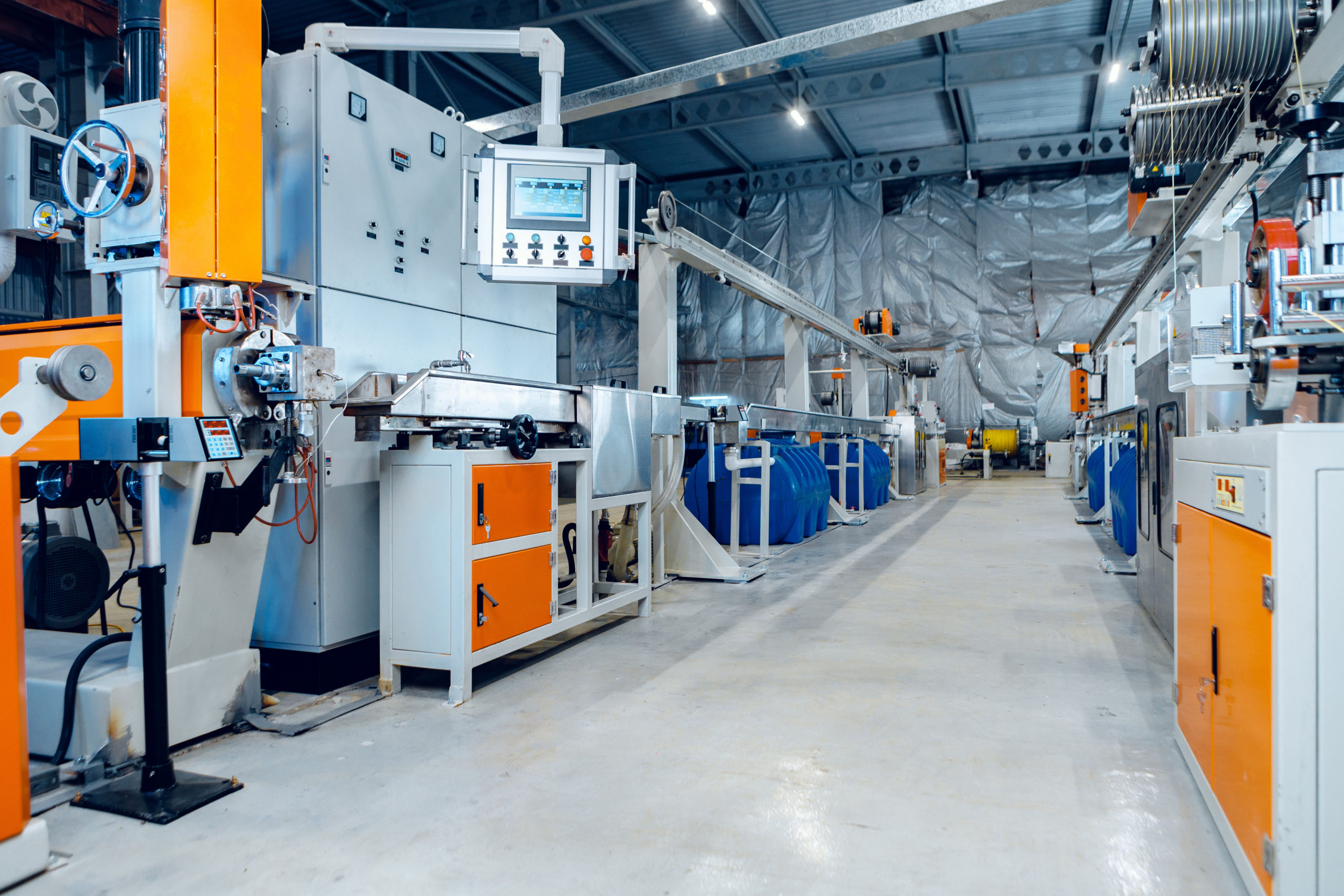 May 20, 2022
WHAT'S NEW
0 Comment
Following on from the success of the MACH show in Birmingham, we recap on the Hydraulic machines/ solutions that we had on show.
Focusing on the green agenda, Yuken Europe showcased 4 machines: the Kiriko, Kiriko Compact, Senorless DA, and the Energy Saving Diode. Read on to learn about the advantages of choosing a Yuken machine for your business.
Kiriko Automatic shavings compactor
The Kiriko uses hydraulic power to compress metal shavings and chips into briquettes, reducing the scraps and shavings by up to 1/40th of their volume. This allows for:
significant reduction in CO2 emissions which contributes towards achieving environmental management and improvement as required by ISO 14001
saving space when storing the briquettes
significantly reducing the frequency of transporting by shipping higher volumes per journey
reusing the cutting oil from the briquettes and storing in a separate tank, which also saves money on oil costs
scrap metal briquettes fetch a higher price than loose chips, making you more money when it comes to recycling
improved safety as they are easier and safer to handle and store
a higher yield during melting in the furnace if you melt down your scrap metal to reuse
Easy to use and available in a variety of models to suit your needs, the Kiriko also offers various mechanisms for different types of shavings and varying materials.
Find out more, please download our datasheet here: Kiriko Automatic shavings compactor
Kiriko Compact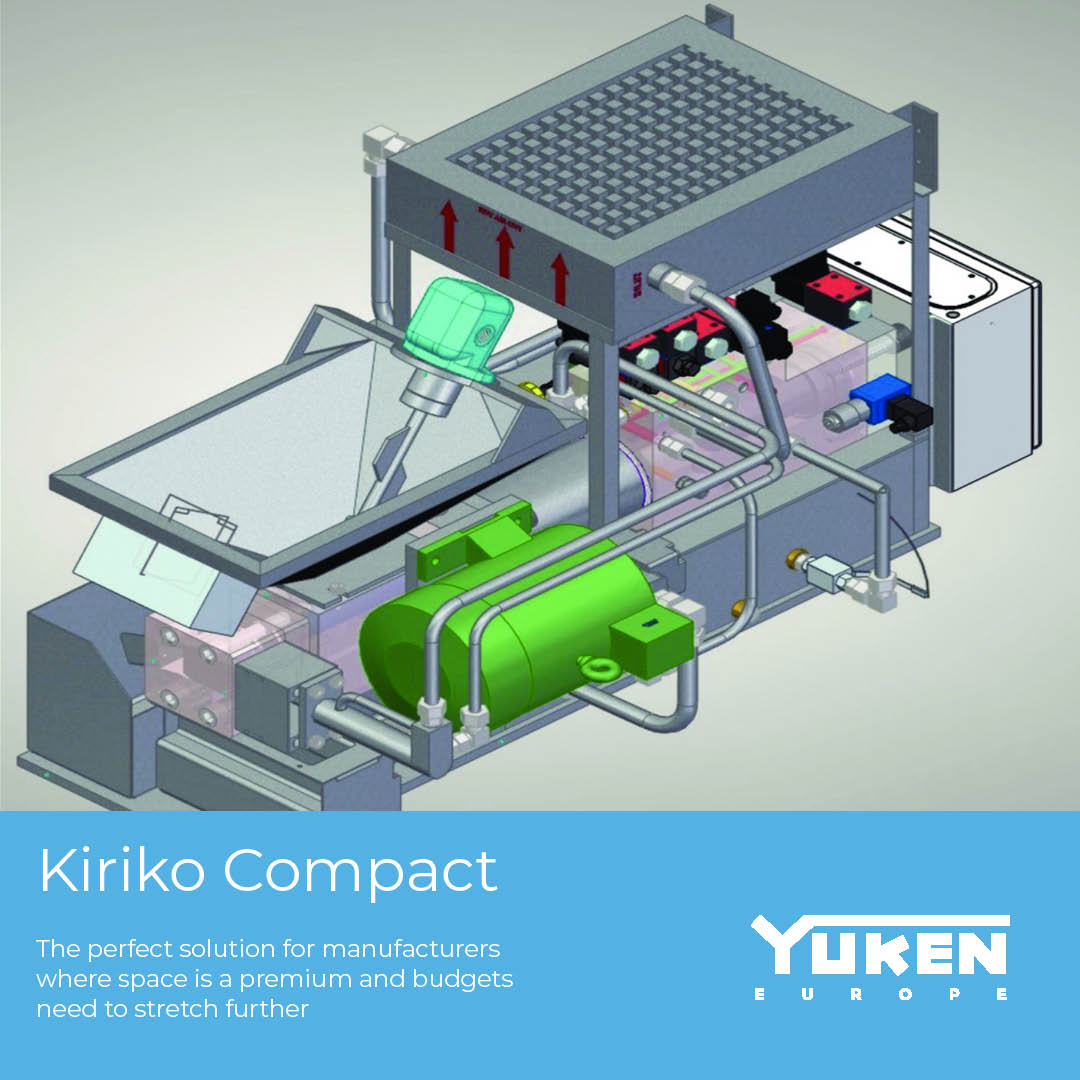 Chip handling is made easy with the Kiriko Compact and is the perfect solution for manufacturers where space is a premium and budgets need to stretch further. This efficient machine will:
save on the cost of labour and chip handling
save space and avoid the need for large chip handling conveyors and coolant management systems in the workplace
need less storage space for the scrap chips
the used coolant oil can be extracted within a few minutes and the quality is not affected.
Removing older coolant also reduces the possibility of fungus formation and the potential hazards of poisonous gases forming.
To find out more, download our datasheet here: Kiriko Compact 
Sensorless DA
The Sensorless Detection Amplifier detects the spool position without a sensor, and features:
energy saving attributes with the energy saved by reducing the power supplied to the solenoid valve
a safety aspect which provides a failure diagnosis
the ability to compare the current consumption with and without the sensorless detection amplifier
an optional communication port which allows the additional statuses: operating time; number of switching; estimated life time; failure content
The Sensorless DA can be used in a variety of applications including forming machines, machine tools, injection moulding machines and steel mill equipment.
If you are interested in finding out more, please download our datasheet here: Sensorless DA
Energy Saving Diode
The Energy Saving Diode is a power saver module for solenoids. Designed to reduce power consumption by automatically reducing the holding current after the spool moves, it allows you to save an incredible 70% of energy in less than 6 months.
Benefits to the Energy Saving Diode include lower power consumption and running costs, a lower solenoid temperature which increases the coil's life. The interchangeable design is standard and comes with connectors for easy replacement.
Features include:
Optimized power consumption of solenoid
50% reduction in coil heating
Add-on to DIN 43650 Form A connector
Interchangeable input polarity with reverse polarity protected
Built-in surge protector to avoid electrical relay
Not only do our machines improve the workplace and the environment but we are confident that they will save you money on your bills which is important more than ever before.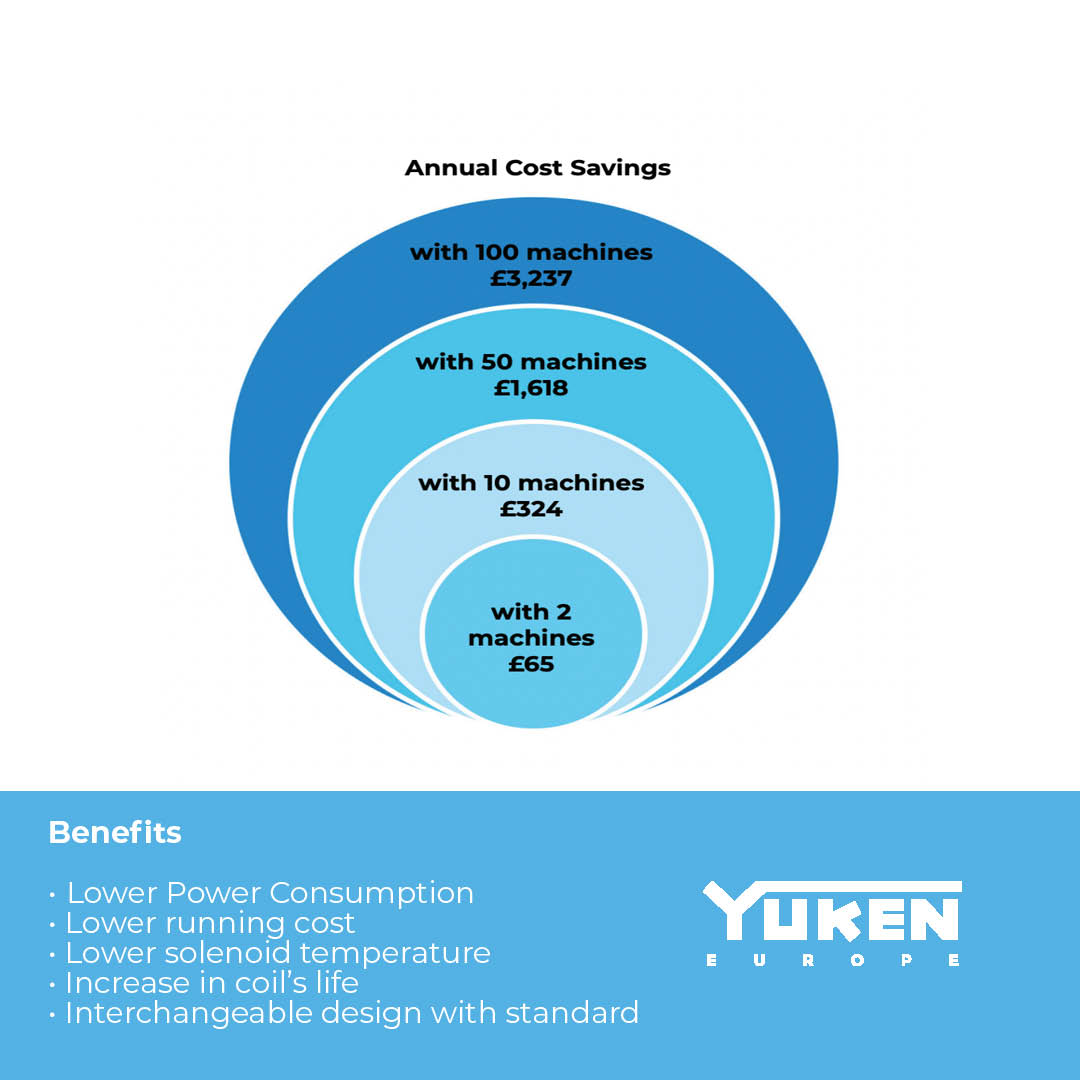 If you are interested in purchasing a Kiriko, Kiriko Compact, Senorless DA, or an Energy Saving Diode, visit Yuken on our stand 20-553. We will be happy to discuss the best option for you and with the 'My Show Planner' you will easily be able to plan a visit to see us, so don't forget to bookmark us with MACH's simple planning tool when you log in to the site
If you are interested in finding out more, please download our datasheet here: Energy Saving Diode
Yuken Europe
Yuken Europe is part of the Yuken group; Yuken is a global company which has provided world class hydraulic engineering services since 1929. Focusing on the green agenda we will be showcasing our Kiriko Shavings Compactor Automatic at MACH 2022 on stand 20 – 553 and showing how to tackle climate change within the manufacturing industry.
Why Choose Yuken Europe Hydraulic Specialists?
Yuken is recognised globally for its outstanding products and bespoke services
Yuken listens to their customers so they can fully understand your needs and what you want from them
Yuken Europe Hydraulic Specialists provides the best solution so you can be prepared for any challenges you may face
The company dates back to 1929 in Japan and from 1980 as Yuken Europe Ltd.
Yuken offers a bespoke service in design and build of new devices for customers
To speak to an expert today call +44 (0)151 486 4696 or email office@yukeneurope.com
For more information about Yuken visit www.yukeneurope.com