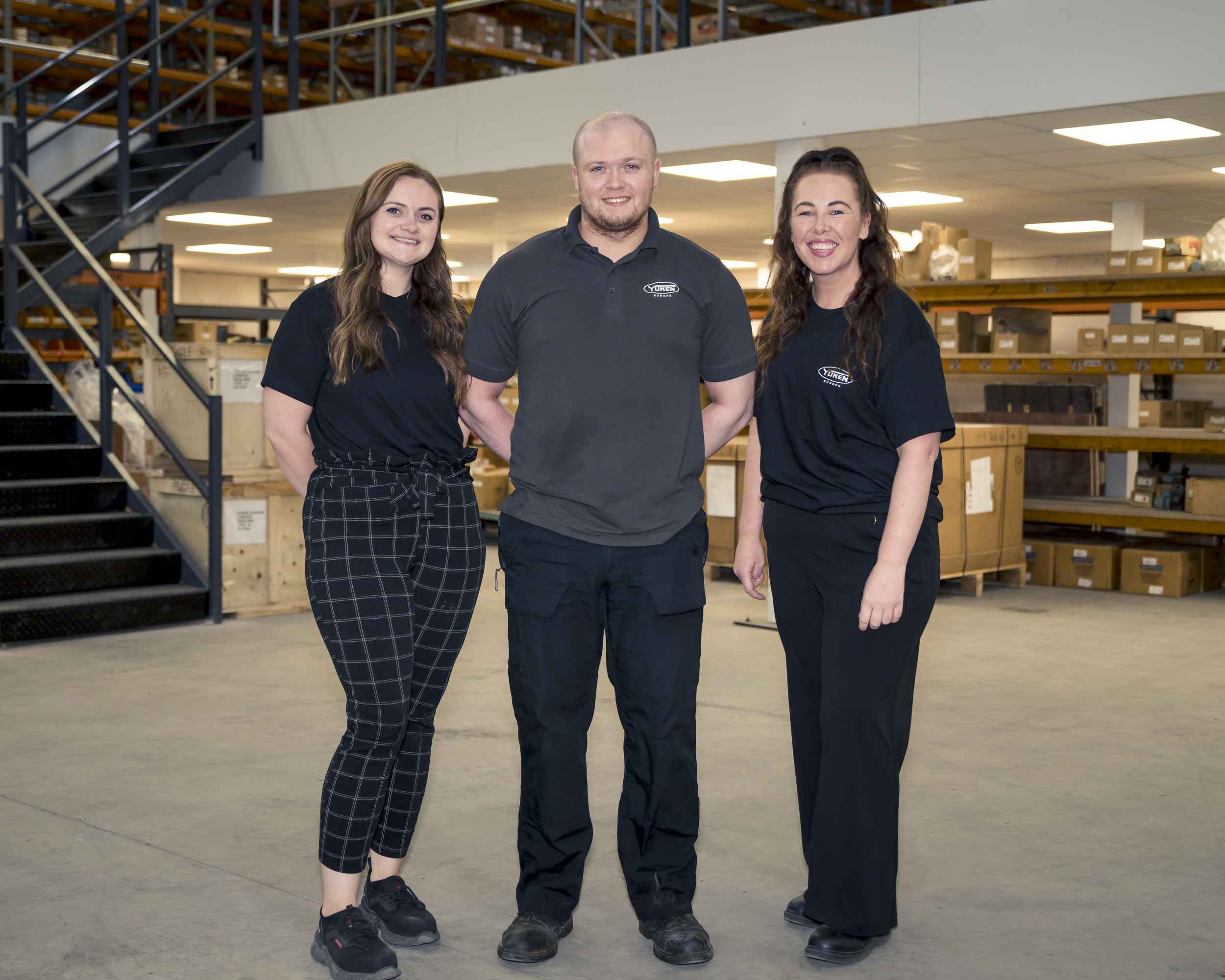 August 2, 2022
WHAT'S NEW
0 Comment
Over the last few months, the team at Yuken Europe has been expanding due to some of the exciting projects and developments in the business.
We say hello to three of the new starters Breanainn, Lindsey and Amelia.
Breanainn McKee, Design Engineer
Prior to completing a Masters in Mechanical Engineering, Breanainn completed an apprenticeship in manufacturing engineering. After graduating he spent 6 months working with another engineering company before joining us as a design engineer within our project team.
Breanainn works alongside Amelia Graham, Pete Ledson and Alan Ledson and the teamwork as designers, technicians, and implementers to deliver projects for our clients from concept to delivery.
Breanainn's role is to produce 3D model parts and assemblies of Hydraulic Power Units (HPUs), create manufacturing drawings of the HPUs, and source materials for their production. He also designs 3D models of a wide variety of other parts, components and assemblies depending on the customers desired specification.
We asked Breanainn what he enjoyed about his short time at being at Yuken Europe…
'I enjoy the diversity of projects and wide variety of challenges that are new and completely unique every day. Having friendly and helpful colleagues and the feeling of being part of a larger, global team.' 
Breanainn enjoys keeping fit and going to the gym.
Lindsey Redfern, Sales Administrator
Lindsey has worked in a variety of office roles and childcare settings. She now works alongside the sales team with Denise, Siobhan and Mike processing sales orders, quotations, invoices and arranges shipments and it's these fundamental tasks which assist the day-to-day operations of Yuken Europe. Lindsey supports Yuken Europe in processing customer orders and ensuring a smooth customer experience, making sure that they get the products they require effectively with the best price we can provide.
Lindsey tells us why she enjoys being a part of the Yuken Europe team…
'The team at Yuken Europe are very welcoming, supportive and create a wonderful environment to work in. All the staff are very knowledgeable and will use this to help teach you along your path as you are learning and growing within the company.'
Lindsey enjoys spends her spare time walking with her husband, daughter, and family. She also enjoys going to the cinema and catching up with friends, keeping fit at the gym and getting creative, making her own house décor.
Amelia Graham, Projects Administrator 
Amelia's previous career was within the health and social care sector. Amelia co-ordinated services to help support individuals access statutory services, which involved administration, accurate record keeping, information gathering, monitoring and evaluation.
Amelia is now Yuken Europe's projects administrator helping to deliver the administration requirements within the engineering department.
Amelia works closely with the engineers and project technicians to ensure that projects are completed accurately and in a timely manner. Updating the CRM data base to keep customers up-to-date and the projects on track, Amelia liaises with clients over the finer details including the project status and time frames, whilst keeping the engineer informed of changes that might be required by the client, and vice versa.
Amelia also manages the quotations on items, keeping a close on prices and delivery times from suppliers on behalf of the engineers; raising new purchase orders with suppliers; tracking deliveries and making sure that they arrive on time; and working closely to support the engineers, whilst ensuring the smooth operation of the office.
We asked Amelia what she enjoyed about being part of the Yuken Europe team…
"I love the history of Yuken, that it all started in 1929 when Uichi Yuki opened a car repair shop in Tokyo, now nearly 100 later that has expanded into a global Hydraulic engineering specialist. Everyone within the team is warm, welcoming, friendly, and knowledgeable, it is a very exciting place to work". 
Outside Yuken Amelia volunteers within her local community, running bi-monthly markets and fun days which include organising afternoon teas and events. She is also a member of the community choir.