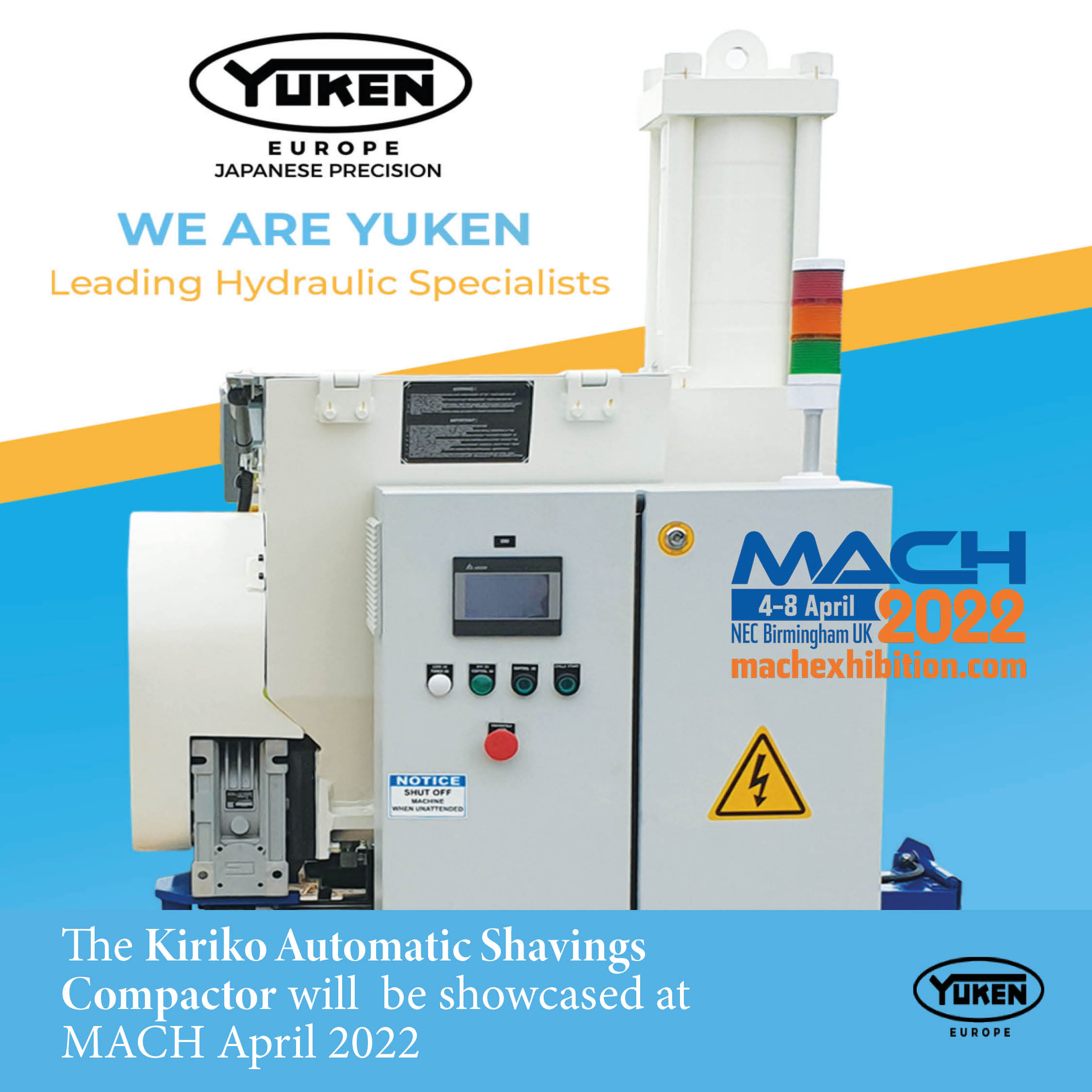 November 3, 2021
WHAT'S NEW
0 Comment
Kiriko Automatic can support Climate Change and the challenges ahead
With the COP26 summit taking place in Glasgow in November 2021 it is important that we are moving in the right direction to tackle climate change. With 196 countries taking part in this major climate conference industry and each one of us should make sure we take part.
During the conference the prime minister, Boris Johnson, said he did not see a conflict between the green movement and capitalism, saying that: "The whole experience of the Covid pandemic is that the way to fix the problem is through science and innovation, the breakthroughs and the investment that are made possible by capitalism and by free markets."
"We have the tools for a green industrial revolution, but time is desperately short," he added.
Yuken Europe Hydraulic Specialists is showcasing the new briquetting machine, the Kiriko Automatic Shavings Compactor at the MACH Exhibition 2022.
As this MACH Exhibition 2022 is focusing on the green agenda we believe that our Kiriko Shavings Compactor Automatic will showcase how this is supporting to tack climate change within the  manufacturing industry.
The Kiriko Automatic Shavings Compactor by Yuken Europe Hydraulic Specialists is the best quality chip (swarf) compacting briquette machine and so simple and easy to use. It also helps to improve safety within the workplace and is a renewable source of energy. Simply feed the waste metal chips into the machine and the compacter compresses them into solid briquettes, saving you time, space and money.
The Kiriko Automatic is an automatic shavings compactor which uses hydraulic power to compress metal shavings and chips, created by machines when cutting metal, into briquettes. The scraps and shavings are reduced up to 1/40th of their volume once compressed.
Not only does using the Kiriko contribute towards cost reduction but contributes to environmental protection too:
It removes cutting oil from the briquettes and stores it in a separate tank, enabling the recovery and reuse of the oil, saving you money on oil costs.
The reduction in volume allows you to save space when storing the shavings/chips
It significantly reduces the frequency of transportation of collected shavings/chips as a higher volume can be transported at once in briquette form.
The briquettes fetch a higher price when scrapped compared to loose chips, allowing you to make more money when recycling your scrap metal.
If you melt down your scrap metal to reuse, the compacted briquettes give a higher yield during melting in the furnace.
Kiriko contributes towards achieving environmental management and improvement as required by ISO 14001 by significantly reducing CO2 emissions.
With loose shavings and chips no longer lying round on the cutting floor area, it helps to improve safety and the compacted briquettes are safer to handle than sharp loose chips.
With cuttings and shavings varying dependent on the size and type of material there are multiple models available to suit different customers' needs and it is suitable for both Ferrous and non-ferrous machined metal chips.
The Kiriko Automatic offers various mechanisms for different types of shavings such as long curly shavings, short spirals or even powders like grinding sludge and dust, as well as varying materials like iron, aluminium, brass and casting.
You can view the Kiriko in action at https://www.yukeneurope.com/other-products/kiriko-briquetting-machine/
If you are interested in purchasing a Kiriko Automatic Shavings Compactor, contact Yuken today and their experts will be happy to discuss the best option for you.
Call the experts on +44 (0)151 486 4696 or email office@yukeneurope.com
For more information about Yuken and the Kiriko Automatic Shavings Compactor visit https://www.yukeneurope.com/
Why Choose Yuken Europe Hydraulic Specialists?
Yuken is recognised globally for its outstanding products and bespoke services.
Yuken listens to their customers so they can fully understand your needs and what you want from them.
Yuken Europe Hydraulic Specialists provides the best solution so you can be prepared for any challenges you may face.
The company dates back to 1929 in Japan and from 1980 as Yuken Europe Ltd.
Yuken offers a bespoke service in design and build of new devices for customers.
MACH Exhibition 4-8 April 2022
Visit Yuken Europe Hydraulic Specialists at the MACH Exhibition in April 2022. The MACH Exhibition is the UK's biggest event for inspiring, innovating and connecting manufacturing. Organised by The Manufacturing Technologies Association, a trade association for the engineering-based manufacturing sector, the exhibition is being held at the NEC, Birmingham, UK, 4-8 April 2022.
To learn more about the exhibition and to book your tickets visit www.machexhibition.com