Drum Compactor
Yuken's Drum Compactor uses hydraulic power to quickly and efficiently compress large drums. Once compacted the drums are reduced in volume by up to 1/6th of their original size. Incredibly simple and easy to use, simply load in your drum, close the door and start the machine. The compactor is incredibly strong so is completely enclosed to ensure the safety of anyone using it or nearby whilst it's in use. Used as part of your waste management system, the Yuken Drum Compactor helps to increase efficiency, improve recycling rates and dramatically reduce the cost of waste disposal.
Large drums can take up a lot of space and are difficult to store and transport due to their size. When compressed however, they are reduced a significant amount which make them a lot easier to carry, store and transport. They can easily be stacked on top of one another for easy convenient storage which takes up just a fraction of the space of the full-sized drums, giving you more space and making your workplace safer. The compressed drums are also a lot easier to carry, so it makes yours, or your employees job a lot easier.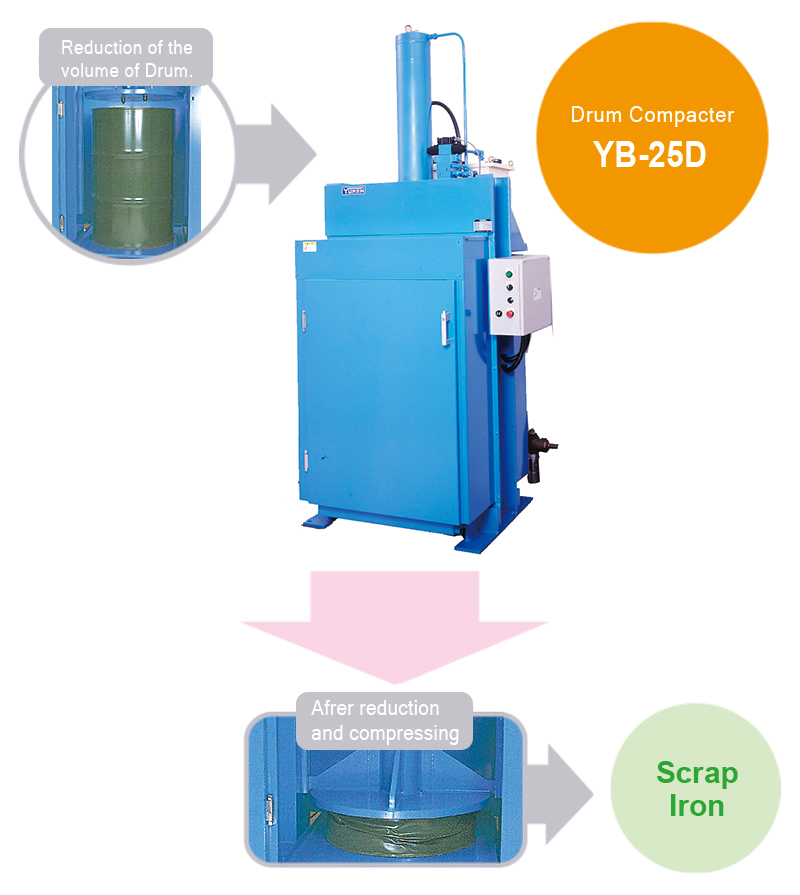 Save a good amount of money on transportation costs as more drums can be transported at once when they are compressed, reducing the number of journeys you need to make. If you pay for someone to collect your drums then you can save money on the number of times they visit, as they will be able to take more compressed cans at a time. The oil drums can be sold for scrap metal to recycling companies who then use it to manufacture new products, making you money. As you will be able to store more metal drums in their compressed form you can have more to sell, making you a greater profit.
The Yuken Drum Compactor is the ideal solution for cost-effective disposal/recycling of large quantities of waste metal drums.
Ideal for those who regularly have large quantities of metal drums that can take up a large amount of space such as:
Car garages/auto repair shops
Food producers
Manufacturers
Fast food outlets
Restaurants
Hospitals
Paint/spraying companies.