Cardboard, Trays and Packaging Compactor
Yuken's Multi Compacter uses hydraulic power to crush and compress cardboard, trays and packaging into large bales that are then bound for easier storage and handling. The compressed materials are reduced to between 1/5 to 1/10 of their original volume. This compactor works on cardboard, PET bottles, trays and plastic packaging. Once your recyclables are sorted, load one type of material into the machine and press start and the machine does all the work for you. You're then left with a large compressed bale of recyclable material which is far easier for you to store and dispose of. The hydraulic press on this machine is incredibly powerful, so it is completely enclosed to ensure your safety.
Used as part of your waste management system, the Yuken Multi Compactor helps to increase efficiency, improve recycling rates and dramatically reduce the cost of waste disposal. Cardboard, trays and packaging often gets in the way and takes up a lot of space once removed from a product. It can be hard to store and often creates a lot of hazards when it is left lying around. This compactor compresses packaging, trays and cardboard into large bales which are then bound making them far easier to stack and store as well as reducing the volume of the packaging saving you more space. The cardboard, trays and plastic packaging regularly needs disposing of but takes up a large amount of space in bins due to its awkward shapes and sizes. By compressing these materials, you can store much more in your bins at a time, prevent overflowing and reduce the amount of journeys/collections needed to dispose of it. This significantly reduces your transportation costs, saving you a lot of money each year.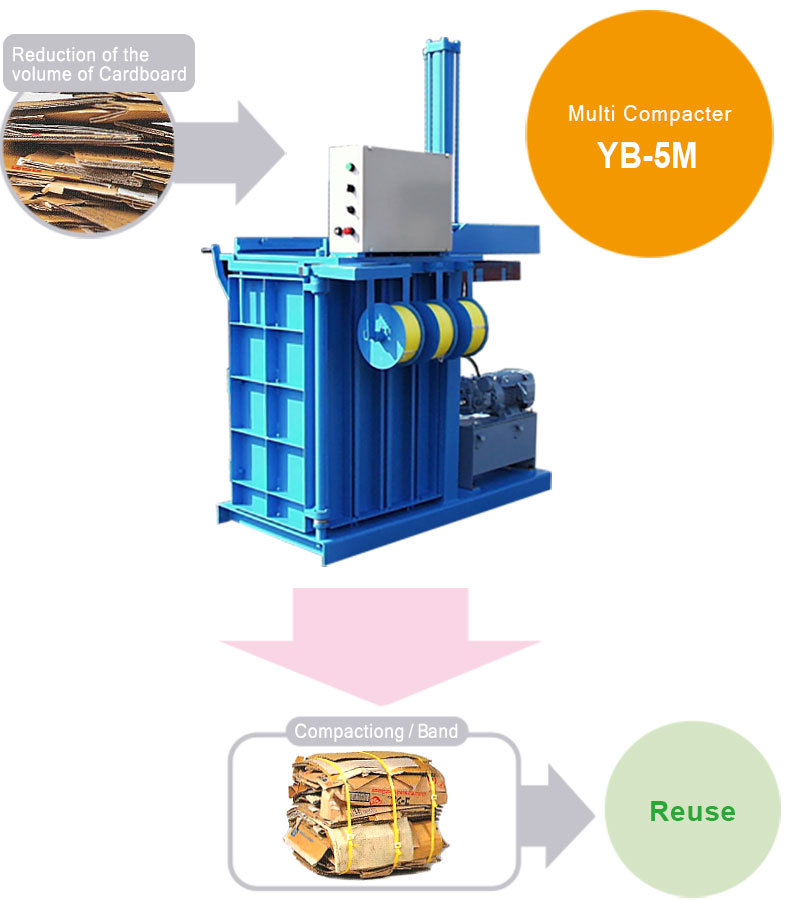 Save yourself and your employees time on having to break down these products yourselves or trying to compact them to fit into bins manually. This machine does this all for you, quickly and efficiently, increasing your productivity.
Cardboard, trays, PET bottles and most types of plastic packaging can all be recycled and reused to create new products. The energy needed to recycle materials is significantly less than that needed to produce new ones therefore is far better for the environment. A lot of these recyclable materials can be sold to recycling plants, which could make you money on your previously unused and thrown away materials, or you can recycle yourself to reuse. This way you are not just making money but also helping the environment. Once compressed into bales the materials are in the ideal shape/size for recycling so it makes it easier to be recycled and can make you more money if selling on.
This compactor is incredibly versatile as it can be used to compress a variety of materials and a large quantity of these materials can be loaded in at one for faster more efficient compressing. It is the ideal solution for a wide variety of businesses including:
Retail shops
Supermarkets
Manufacturers
Restaurants
Hotels
Hospitals
Wholesales
Warehouses and so much more.