18L Can Compactor
The Yuken 18L Can Compactor uses hydraulic power to crush and compress 18L oil. Once compressed the cans are reduced to 1/10 of their original volume. A quick and efficient way to compress your cans for easier storage and disposal to help you save time and money. Incredibly simple and easy to use, simple load in your cans, ensure the machine is closed and press start. The crusher is incredibly powerful so is completely enclosed to ensure your safety whilst in use. Used as part of your waste management system, the Yuken Can Compactor helps to increase efficiency, improve recycling rates and dramatically reduce the cost of waste disposal.
Cans are used and disposed of in large quantities. Once empty they can be hard to store and dispose of due to their size and how light they are. They are hard to stack and keep neat, take up a lot of space in bins and can easily be dislodged and fall, creating hazards. Save space in your bins by compressing your cans so they are a much smaller size, which allows you to store more than double the amount at one time. The compressed cans are also much easier to handle and store. The Can Compactor reduces the number of journeys or collections needed to dispose of the cans as more can be transported at once. This saves you large amounts in transportation costs.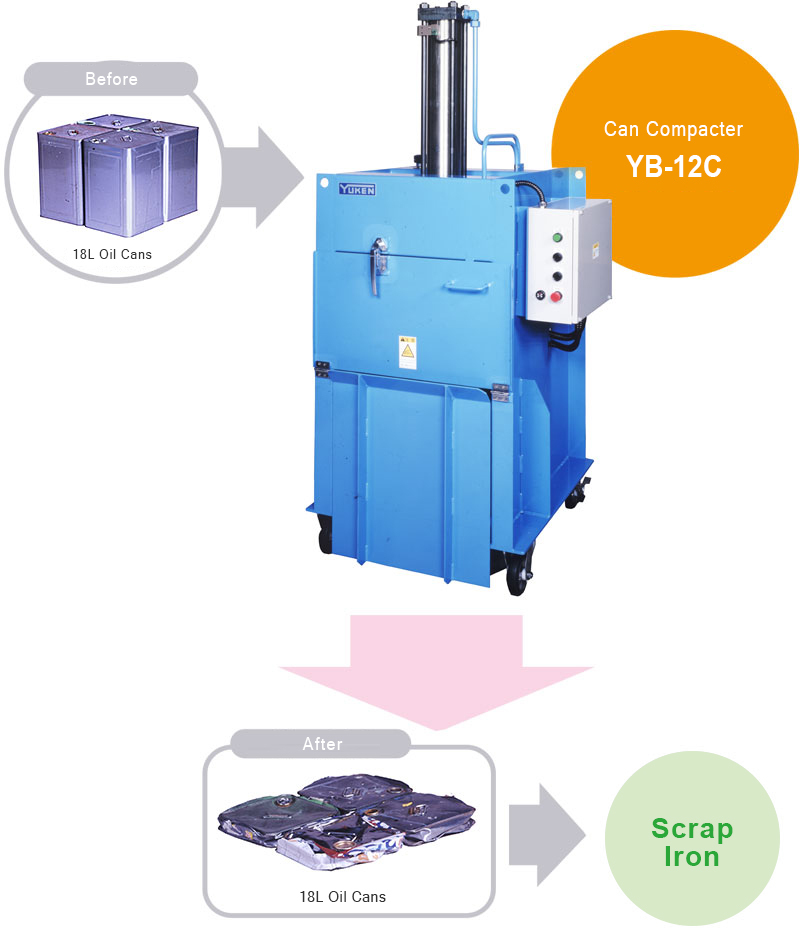 Metal cans can be repeatedly recycled and reused to make new products. The energy used to recycle the cans is significantly lower than it is to produce metal to create new ones. You can sell your compressed cans to scrap metal recycling companies and as you can transport more compressed cans at one time, you'll get a greater profit for each visit. Not only will you be helping your pockets but you'll be helping the environment too.
The Yuken 18L Can Compactor compresses multiple cans at one time and although designed for 18L cans it works on cans of all different shapes and sizes, making this compactor incredibly convenient and efficient. The ideal solution for those who regularly have a large number of cans they need to dispose of.